Welcome to the installation guide of Paris WordPress Theme. Paris is a clean and minimalistic theme for fashion and lifestyle bloggers who want to focus on their content and monetize their blog in many different ways. It features seven different homepage layouts, a custom made shopping experience and compatibility with all major affiliate networks. Follow the guide below to install Paris Theme or shoot us an email for professional help with the setup: hello@munichparis.com
1. Theme Upload and Installation
Navigate to your WordPress Dashboard and click on Appearance > Themes.
Now click on the Add New button on top of the page and then click Upload Theme.
Choose the Paris.zip file from the ParisTheme folder you downloaded.
Important! Don't upload the whole ParisTheme.zip folder! If you get a 'Theme is missing the style.css stylesheet' error you have probably uploaded the wrong folder.
Click on Install Now and once it is installed, click the Activate button.
2. Quick Setup Wizard
Once you have sucessfully activated the theme, our Quick Setup Wizard will walk you through the basic setup of your new theme. It takes only five clicks to get you started.
Install Child Theme
If you ever want to make changes to your theme you should always use a child theme. It's really helpful, because changes won't get overwritten by updates and you can safely customize your theme.
Install Plugins
Paris requires a few plugins to be installed so the theme works without problems. There are also some plugins that we recommend to use all functions Paris offers (but they are optional).
Required Plugins: MPS Plugin, …
Recommended Plugins: ContactForm 7, WP Instagram,…
For an advanced setup, click 'Advanced' to see all plugins and select the ones you would like to install.
Import Content
Paris comes with demo content that helps you get started with an optimal setup.
Important! Only use the demo content importer on a NEW WordPress installation. Running it on a blog that already has some content may cause issues with your existing posts and widgets. In this case, skip the import step.
If you want to start a fresh new blog, you can use the demo content (images, posts, categories etc.) to get familiar with the theme and its functionality. Click on 'Advanced' to select which content should be imported.
That's it! Your new WordPress Theme is now ready for customizing and adding your personal info.
3. Setup Navigation + Header
Set up the Menu
Navigate to Appearance > Menus.
Click the "Create a New Menu" button  and choose a menu name.
On the left side you can choose between adding Pages, Posts, Custom Links or Categories to the menu. The box here shows how to add the different links.
Pages/Posts: Use this item to add previously created pages and posts to the menu. This is the way to add e.g. an About page to the navigation.
Custom Links: Use this option to add a link to your homepage or a custom third-party site. Enter your homepage's URL into the box and give it a title, such as "Home".
Categories: Use this option to add a category page to the menu that displays all posts from one category. Read here how to create categories and assign them to your posts.
Sub Menu: If you want to create a dropdown menu, drag the items you want in the submenu below the other menu items. To create an empty parent element, select "Custom Links" and put a "#" into the URL box.
Once you menu is ready, check the "Primary" box at the bottom of the page to display the menu on top of the page.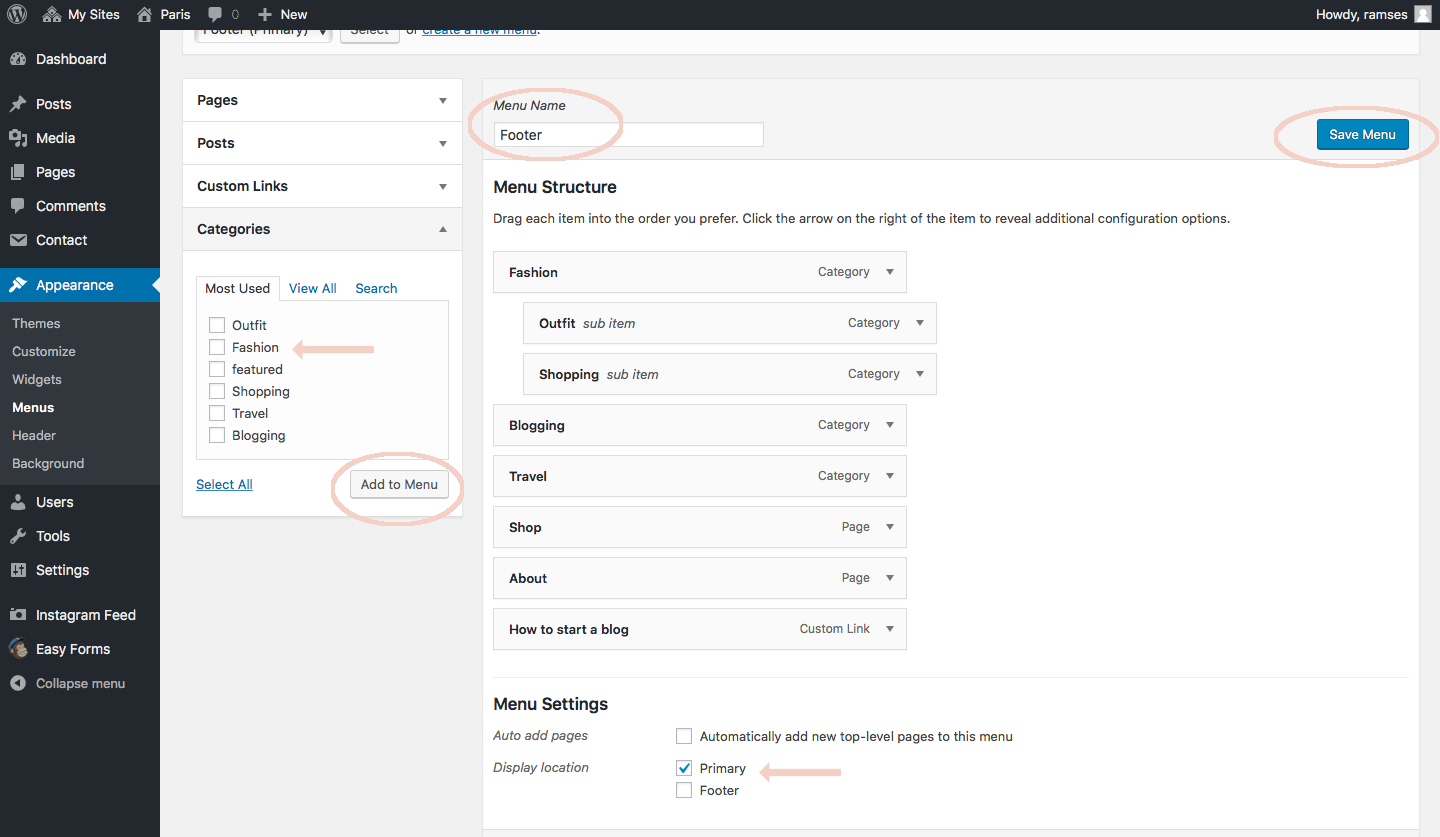 Set up the Social Media Icons:
The theme comes prepackaged with ten of the most relevant social media icons.
Navigate to Appearance > Customize > Paris Theme Options.
In the left menu select "Social Media Icons".
Add your relevant social media URLs in the input boxes. If you leave a box blank, the particular icon will not appear.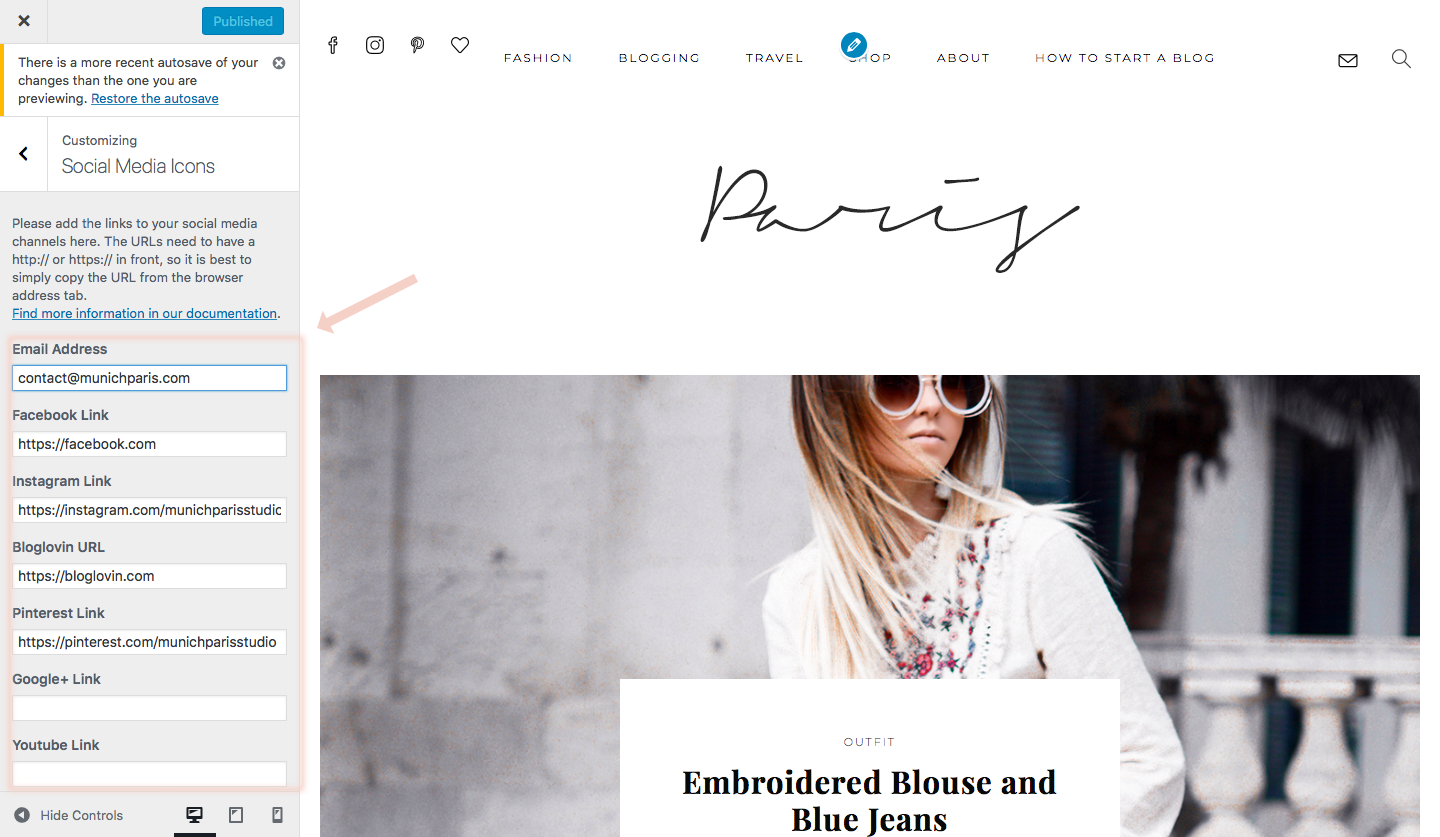 Add your blog title as a header

Navigate to Settings > General.
Set your blog's title as Site Title. You can add a description for SEO purposes – it's recommended, although it won't be displayed due to the theme's design.
Add a custom logo/image as header
Navigate to Appearance > Customize.
Select Header Image on the left and click the "Add new" button to upload a new header image.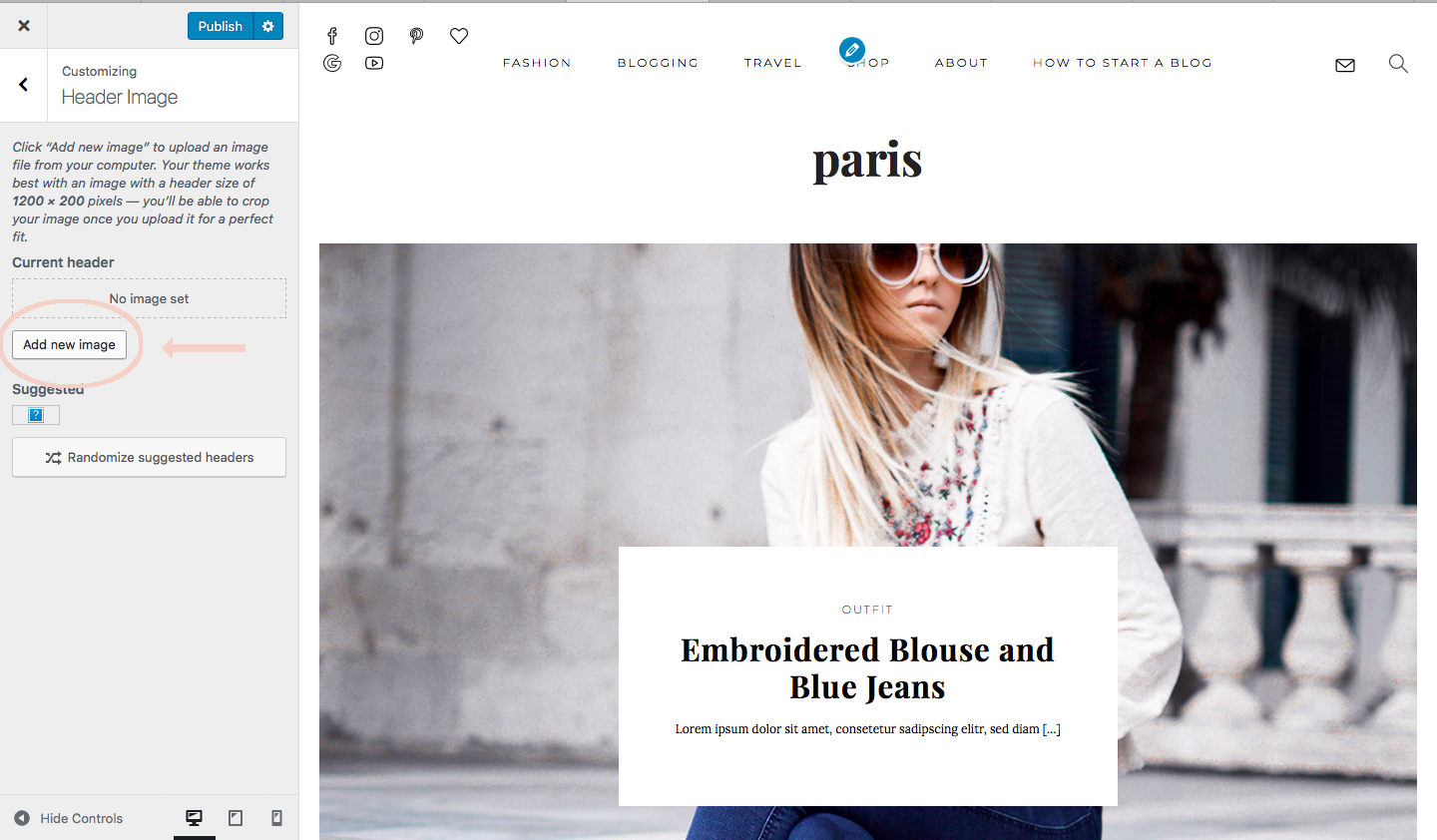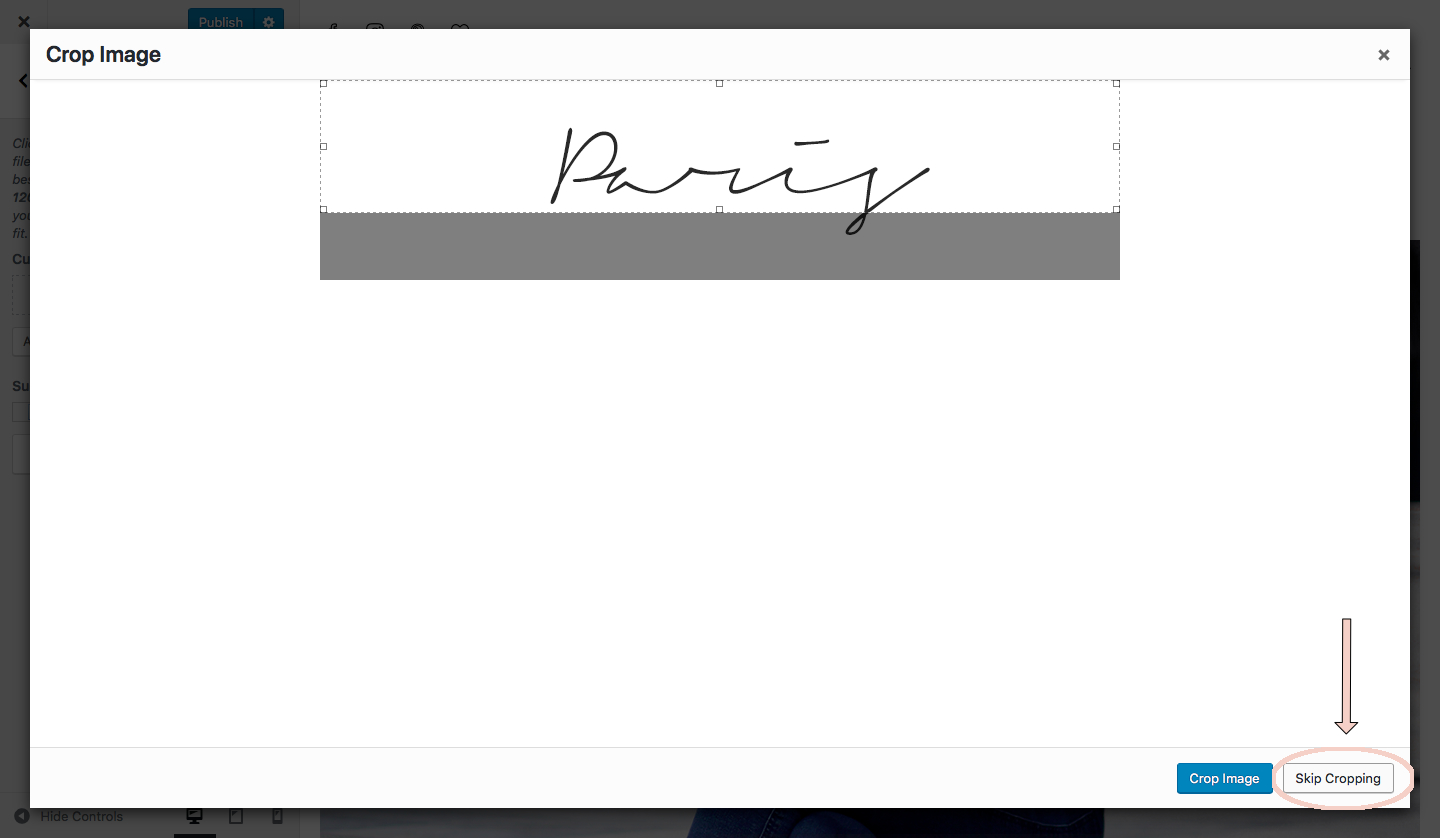 4. Homepage Layout
With our Paris Theme you have quite a few styling options for the homepage. For example you can leave out the featured post section if you feel even more minimalist.
Featured Section
Paris Theme features a top section where you can display up to five posts as highlighted or featured posts. You can choose between three static posts or a dynamic post slider.
To choose which posts should show up in the Featured Section, you have to add the category 'featured' to the desired posts.
Navigate to Posts > Categories and add a new category called 'featured' there.
Then go back to Posts and assign the category to all posts you would like to feature on top of the homepage.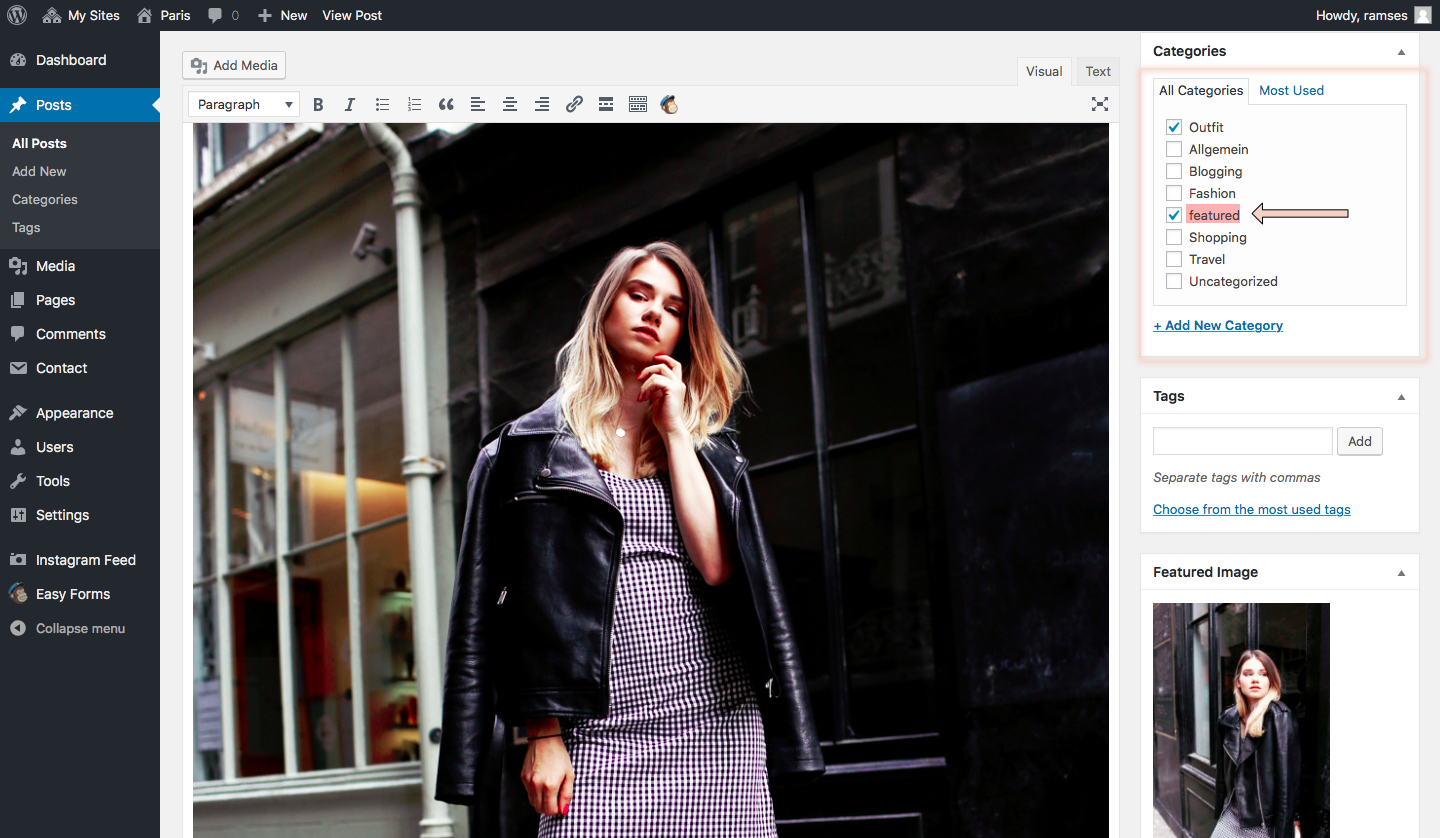 The theme will always show the three (or if you decided to use the slider, your desired amount of posts) latest articles, no matter how many posts you have added the 'featured' category to.
To style the featured section on the homepage, navigate to Appearance > Customize > Paris Theme Options > Featured Section.
You can choose between one big and two smaller posts, three small posts in a row or a post slider.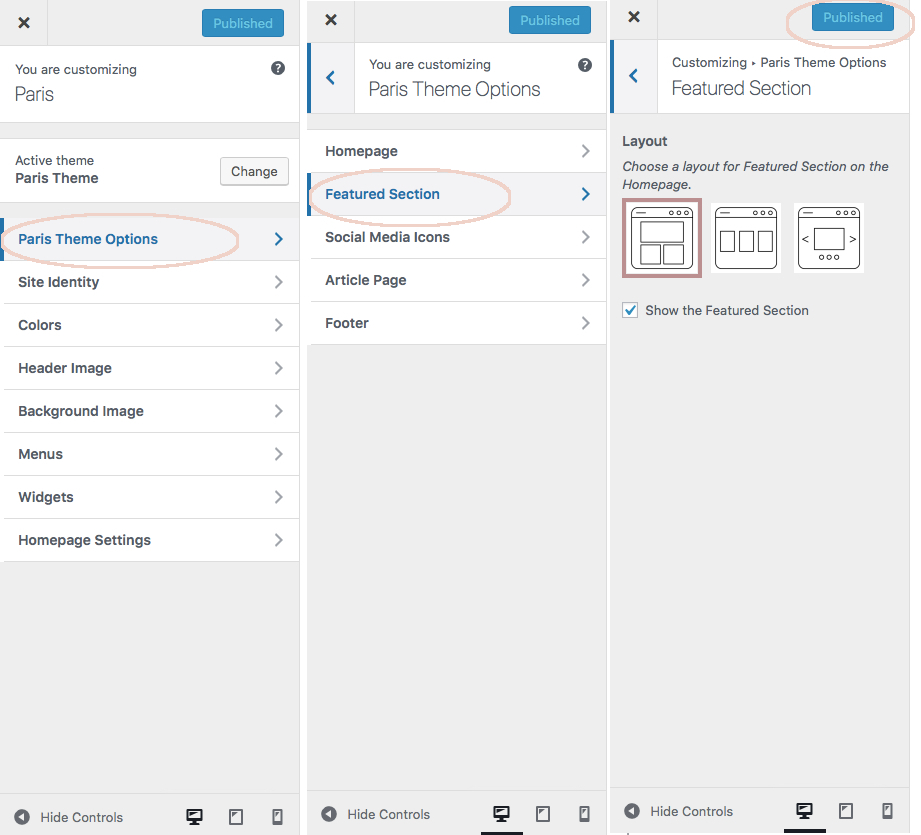 Homepage Widget Areas
The Theme comes equipped with five widget areas, where you can add any widget you like. You can use the default WordPress widgets or the widgets that come with our MPS Plugin, like a custom shopping widget or a profile area.
Profile/About Widget
Make sure you have our MPS Plugin installed and activated. Navigate to Appearance > Widgets and drag the MPS Profile Widget into the desired widget area (e.g. Sidebar).
Now you can add a profile picture, an 'about you' text and a link to your About page. It's very simple and should take you just a few moments to setup your About Widget.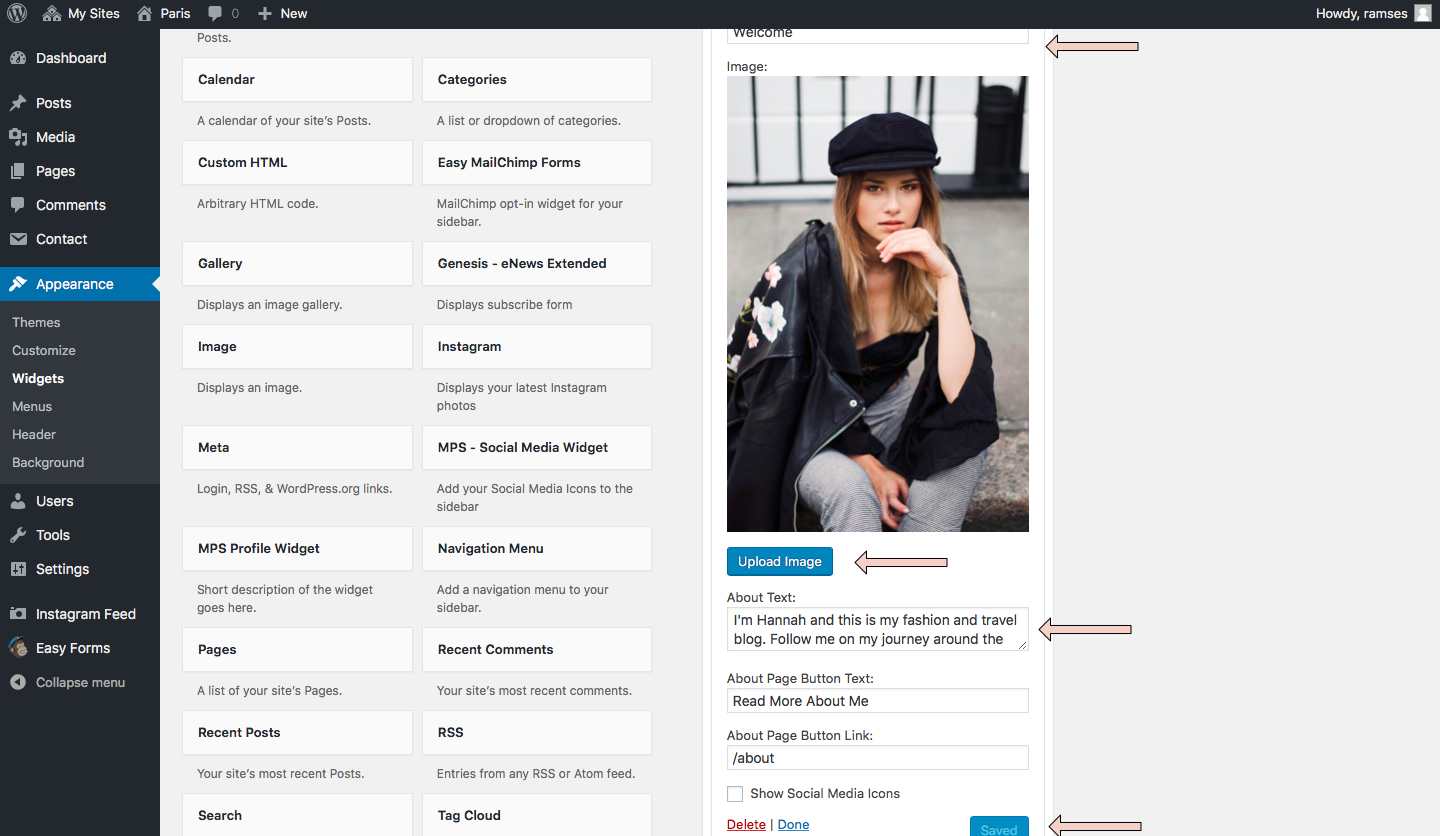 Newsletter Widget (Mailchimp)
Paris Theme currently supports newsletter signup forms by Mailchimp. To add a subscribe form for your Mailchimp newsletter, follow these steps:
Make sure you have the recommended Plugin Easy Forms for MailChimp installed and activated.
Navigate to Easy Forms > Settings and add your Mailchimp API Key.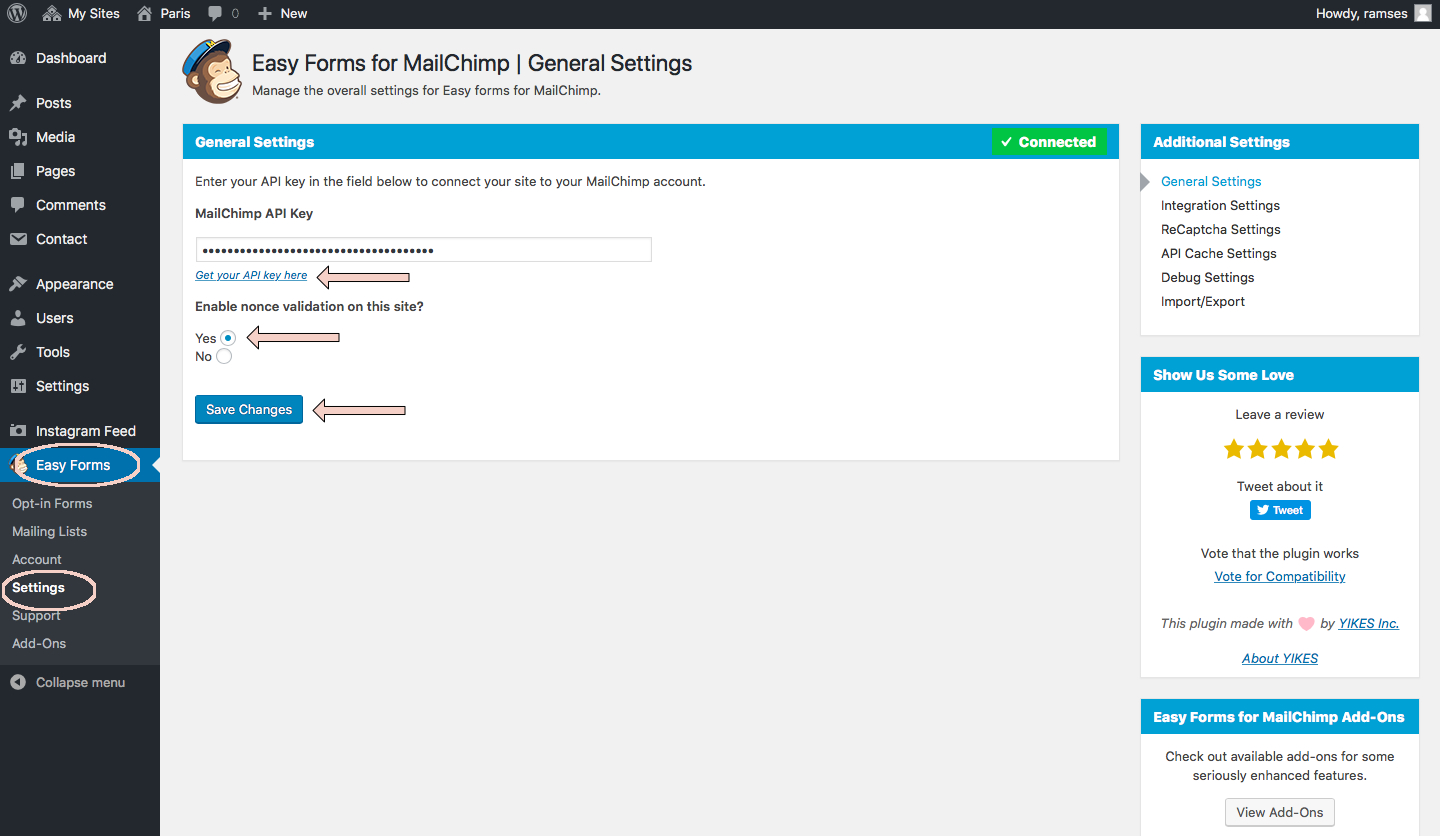 Click on Opt-in Forms and add a new signup form. Don't forget to select the right newsletter list (Associated List).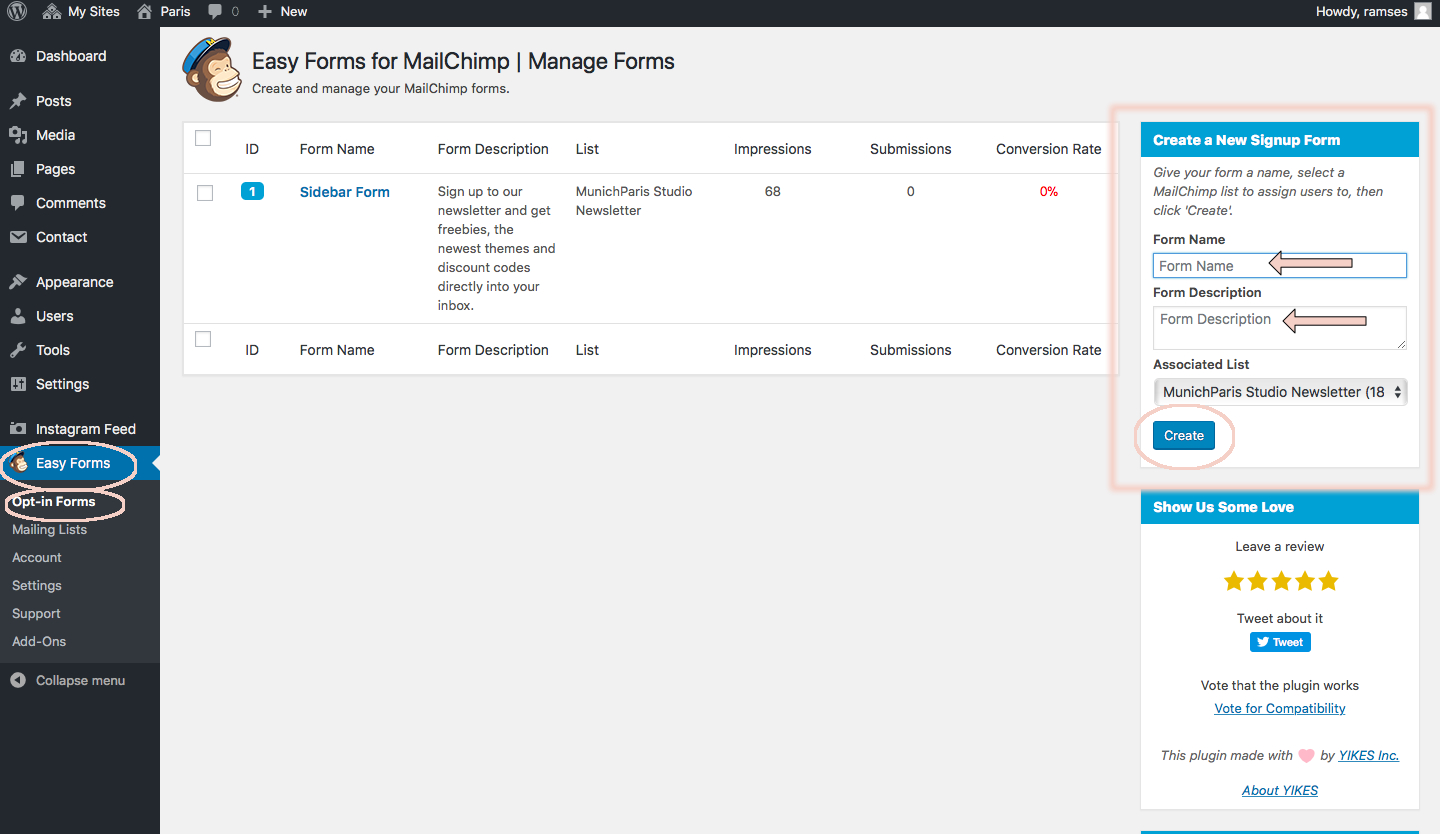 To add the widget to any of the predefined areas, navigate to Appearance > Widgets and drag the Easy Mailchimp Forms widget into place.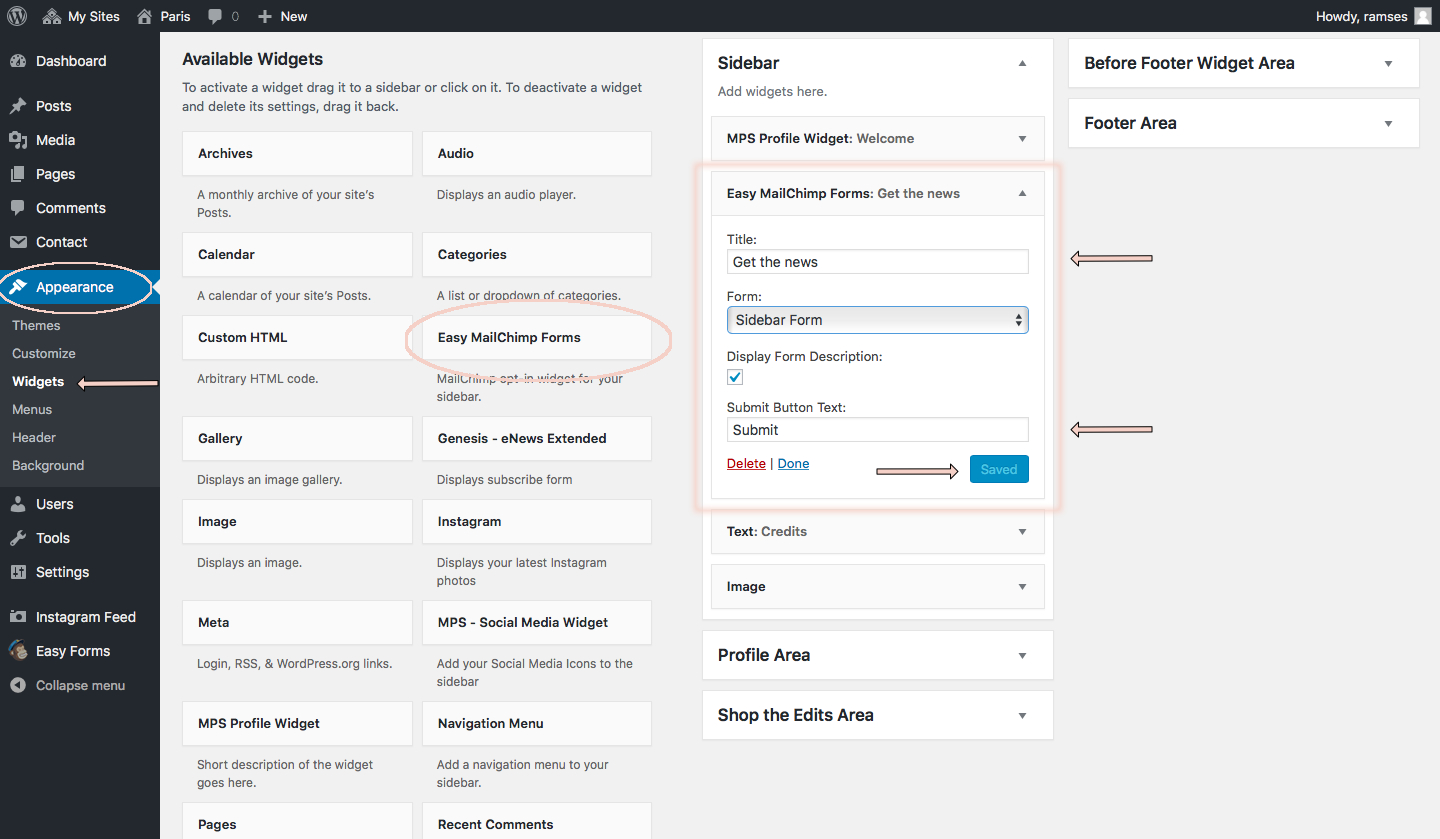 Shopping Widget
If you want to present your readers your favorite wardrobe pieces, an affiliate shopping widget is the right way to do so. You can inspire and it's an easy way to monetize your blog.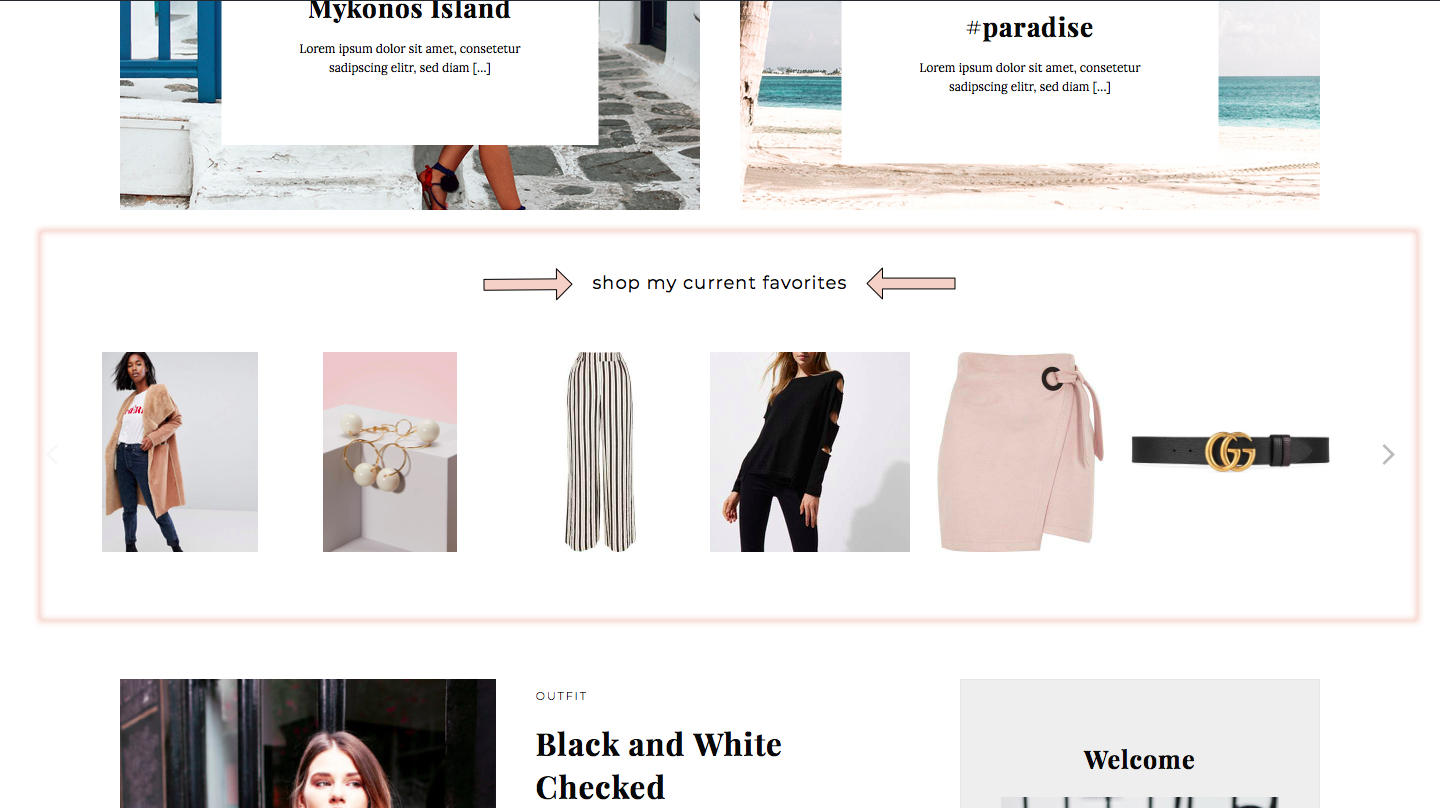 Read our Affiliate Network Guide for Fashion and Lifestyle Bloggers to find out about the different networks and how to create widgets there. We recommend using Shopstyle Collective or apply for an account at Rewardstyle.
Once you have creates a shopping widget, copy the HTML or shortcode you get from the affiliate provider.
Navigate to Appearance > Widgets and drag a Custom HTML widget into the desired widget area. Then simply paste your copied code in there. Don't forget to click on save!
Shop the Post Widget
Let your readers shop directly on your homepage by displaying the Shopping Widget right into the Preview Thumbnails of your Posts.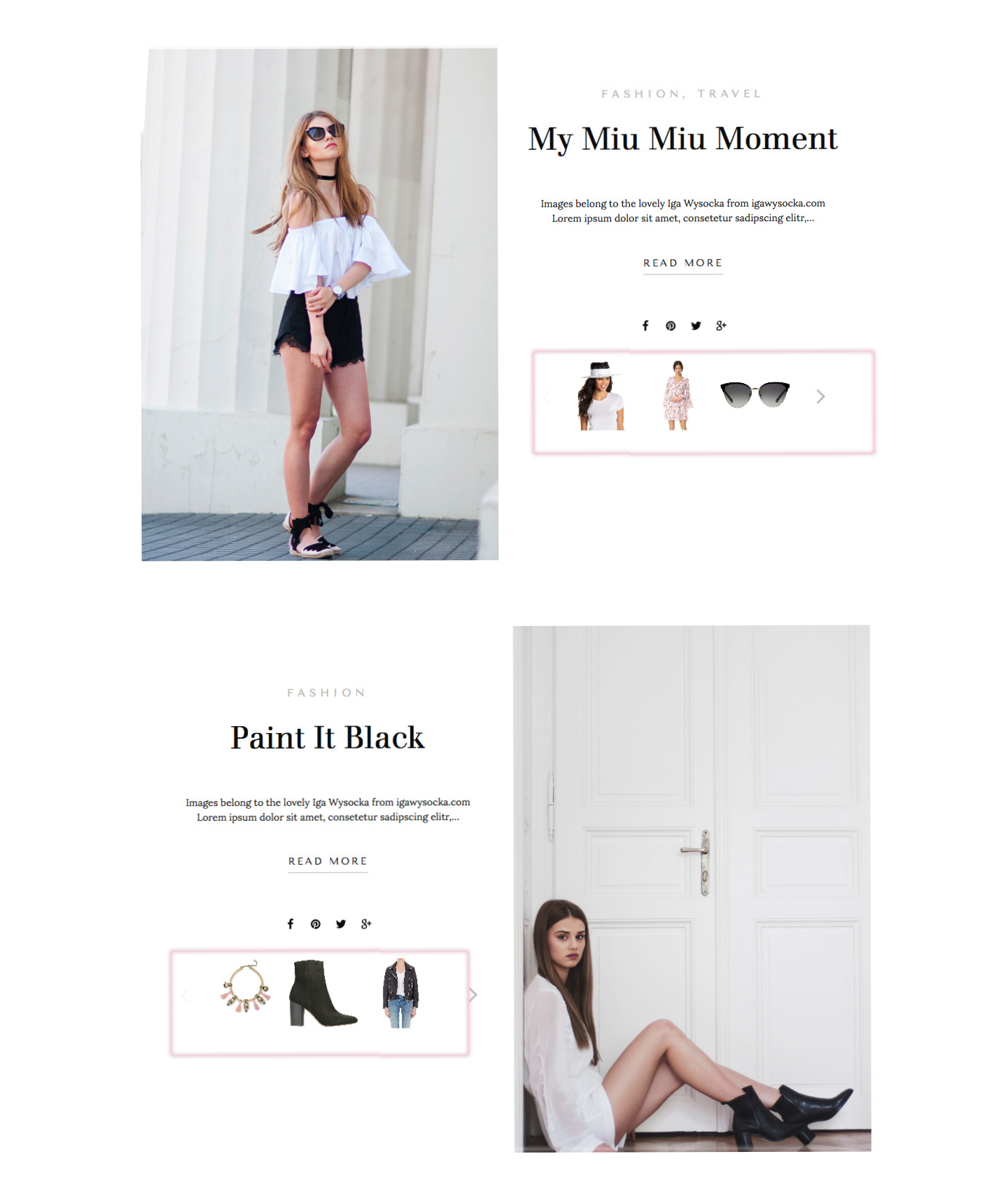 Preparing your Theme for the MPS Shop the Post Widget
To use the cool feature of displaying your Affiliate Product Links right into the Preview of your Posts on the homepage make sure that you have activated the MPS Plugin.

Navigate to your Post Editor and click on Screen Options and make sure that the Shop the Post Widget is checked.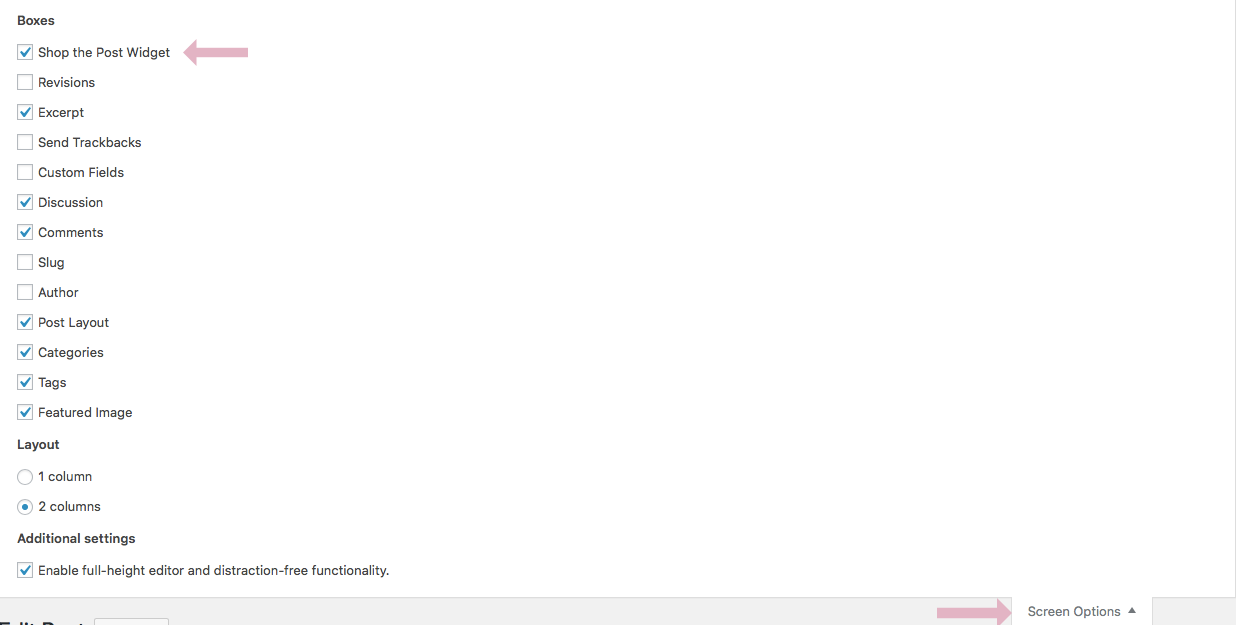 You find the Shop the Post Widget right at the bottom of your Post Editor where you can easily paste the Shopping Widget Code of your Affiliate Network right into the value Box. Don't forget to click on update to save your changes!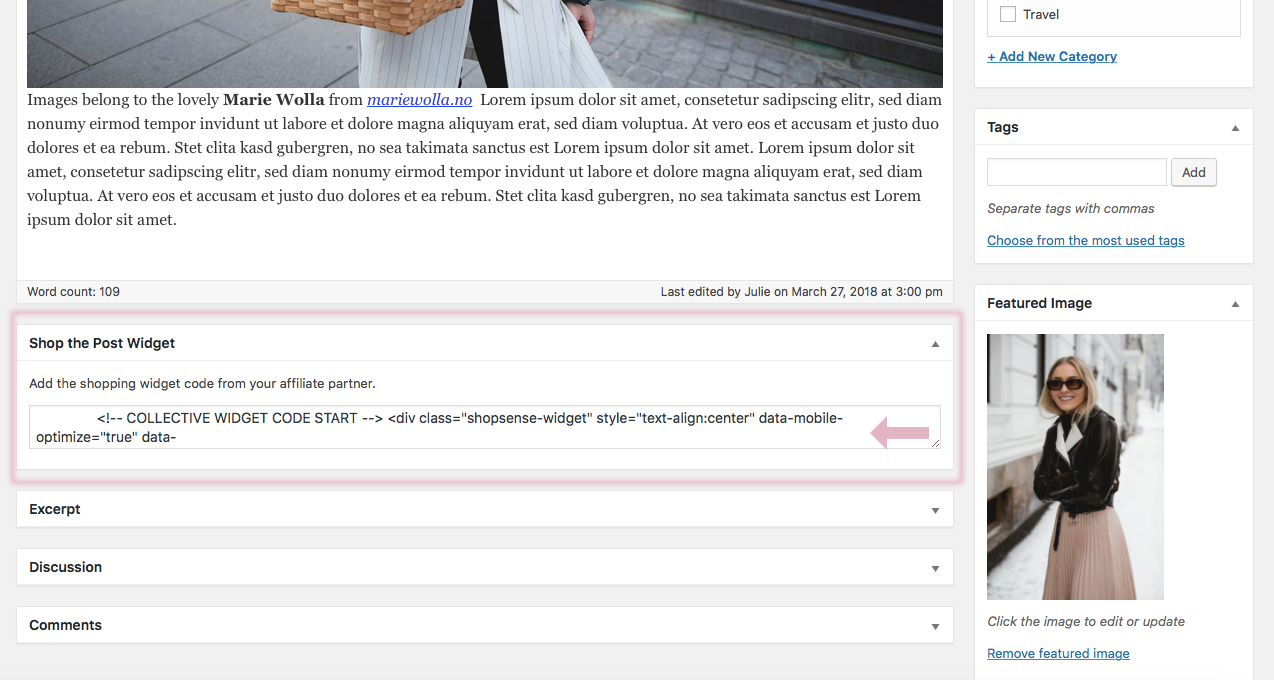 Use your Shopping Widget Code also for your Posts
To get the most out of your Affiliate Marketing we recommend that you also embed the Shopping Widget Code right into your Posts. You can do this in your Post Editor by making sure that you're currently using the TEXT MODE of your Post Editor. You can paste the Shopping Code Widget wherever you want – either in-between, on top or at the bottom of your Post. No limitation, live out your creativity and give your readers an awesome experience.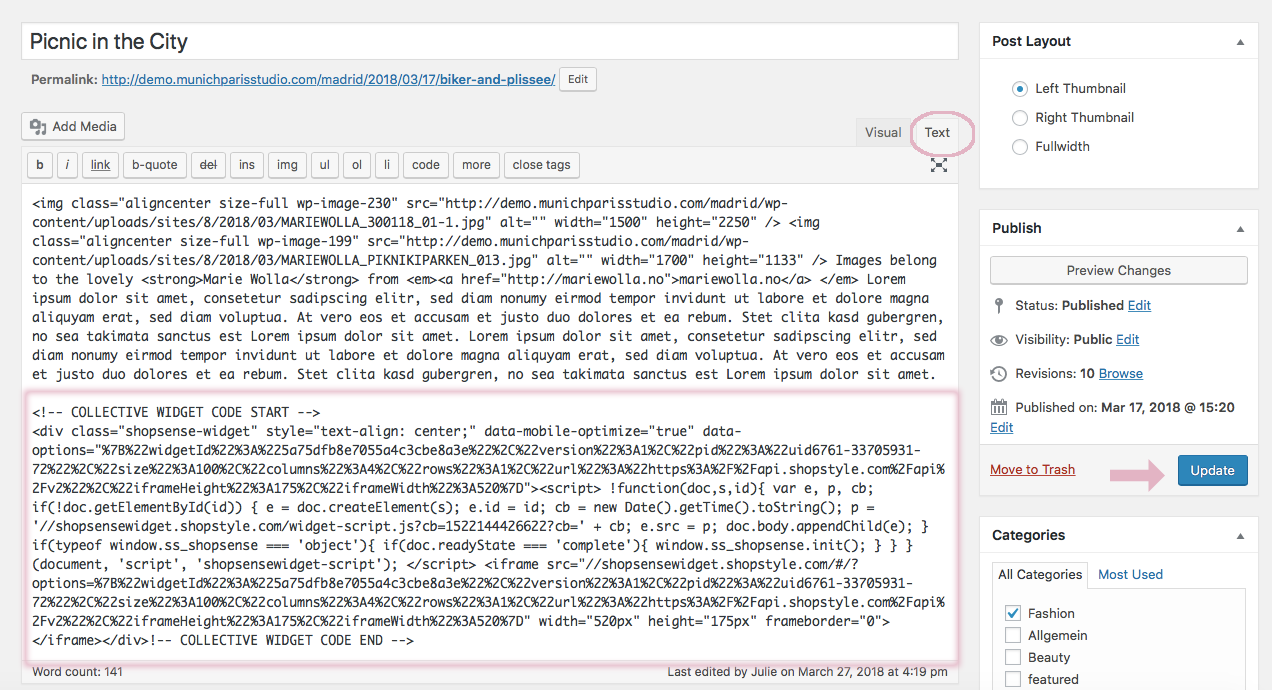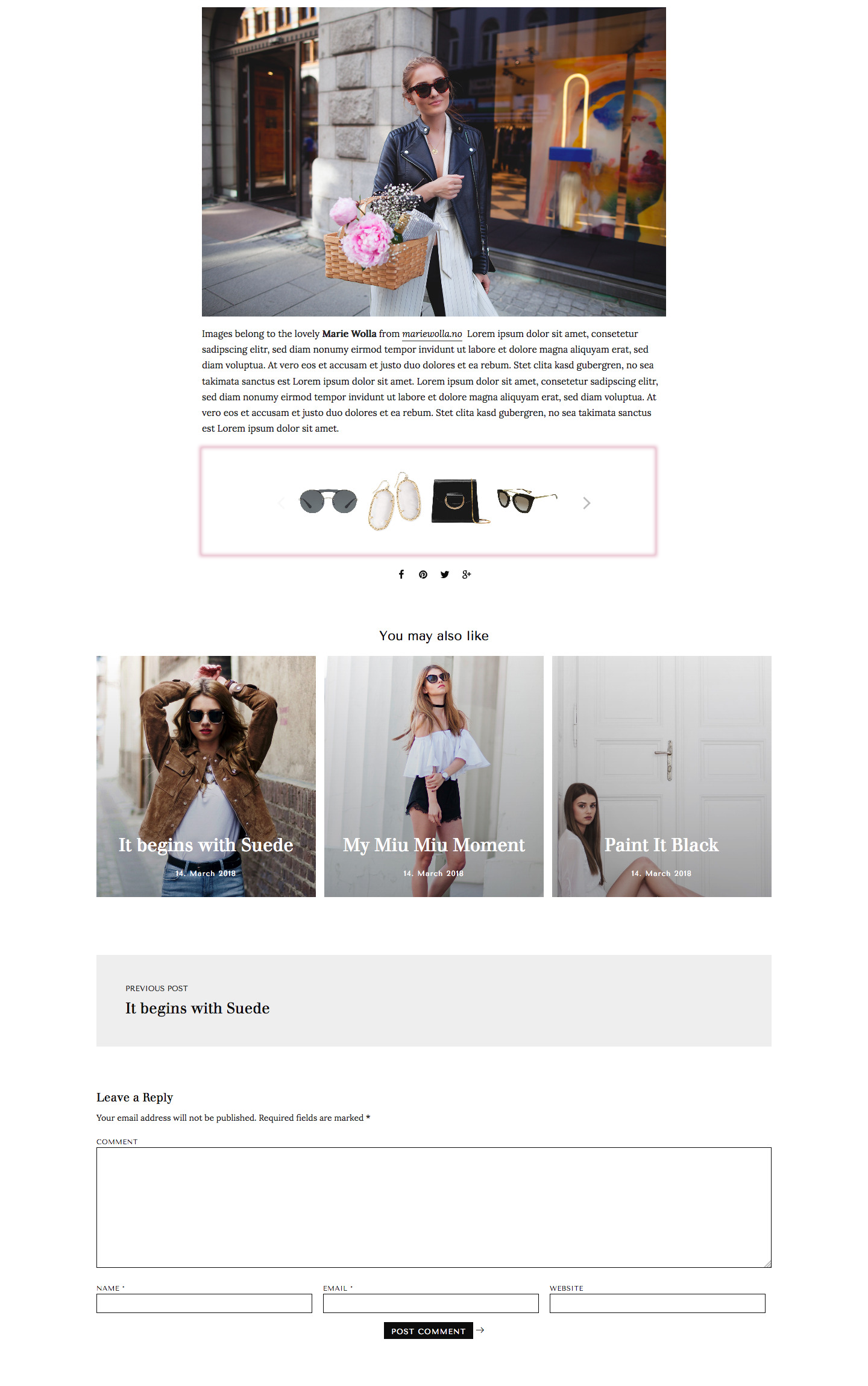 Instagram Widget
To display your latest Instagram pictures, make sure you have the WP Instagram Widget installed and activated.
Navigate to Appearance > Widgets and drag the Instagram widget into your desired widget area. In the demo version it is placed in the Before Footer Widget Area.
Now you only have to add your username and how many posts you would like to display (recommended: 5).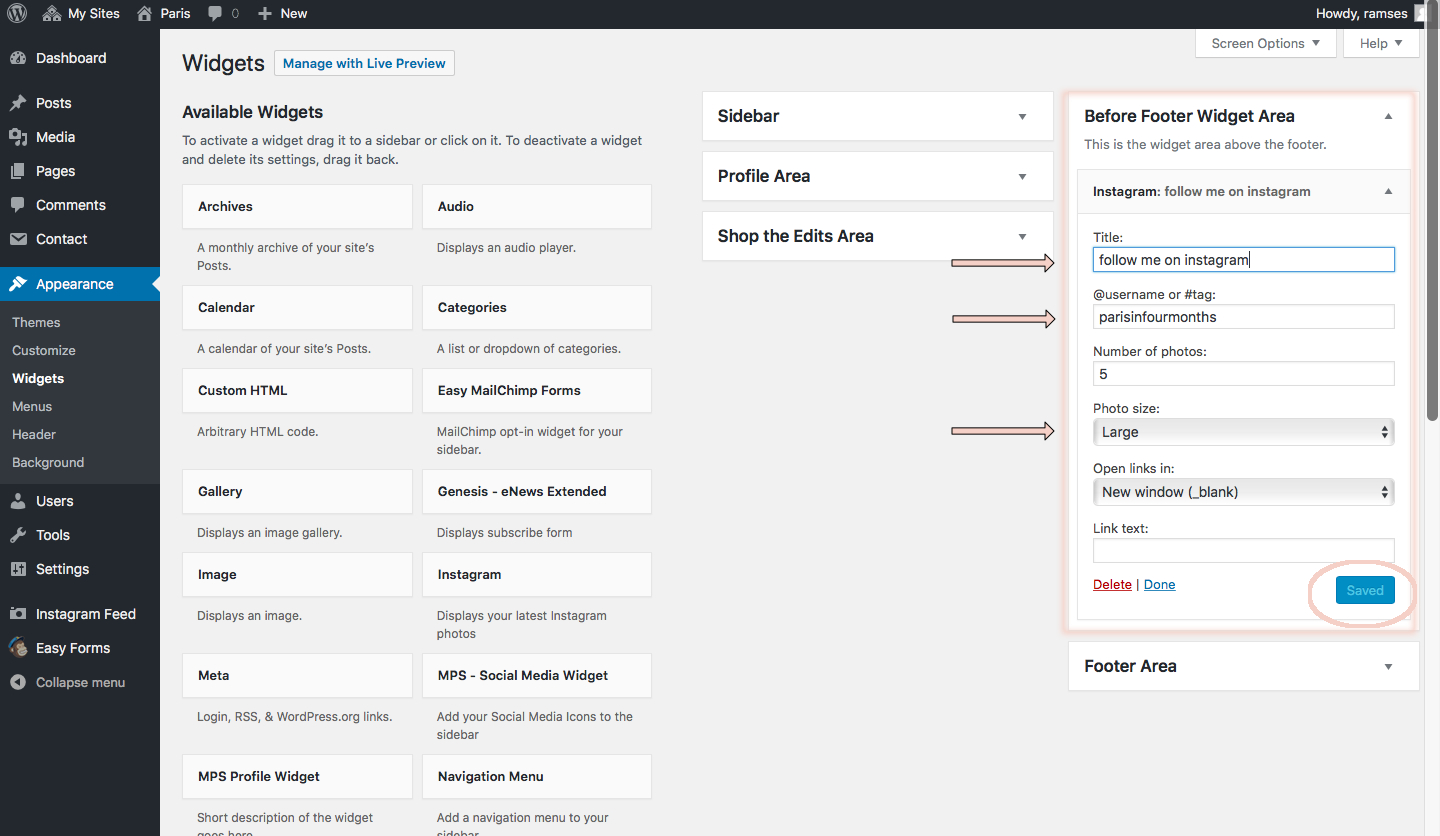 General Homepage Settings
Navigate to Appearance > Customizer > Paris Theme Options > Homepage to make some general settings for the homepage, like display options for the Trending Posts section or post layout settings.
To choose the number of posts shown on the homepage, navigate to Settings > Reading.
5. Footer
Footer Menu
To add a menu to the footer area, navigate to Appearance > Menus.
Select an existing menu or create a new menu and tick the Footer box at the bottom of the page. Basically what you do is to repeat step 3. You just need to pay attention to the position of the menu. For the Footer Menu please check Footer as your Display Location.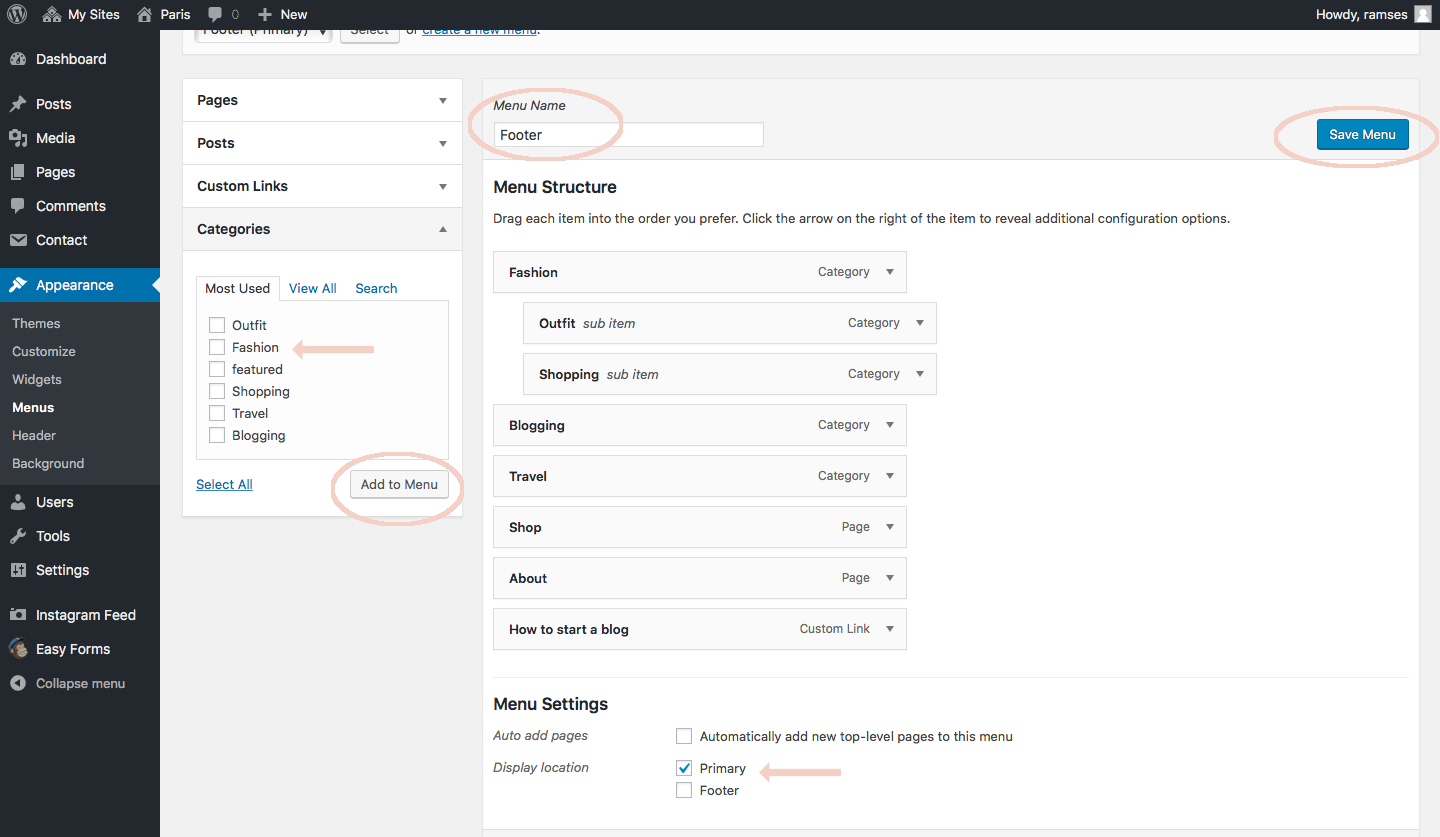 Footer Credit/Copyright
You have the option to add your own copyright or credits description to the footer (additionally to our theme credits which have to remain intact as long as you use the theme on your website).
Navigate to Appearance > Customizer > Paris Theme Options > Footer and add your copyright text.
Your social media icons will appear in the footer by default.
6. Article Page
The article page displays the full version of your blog articles, together with Related Posts and a comment section. If you are new to WordPress, read our guide on How to write a blog post in WordPress.
Article Layout
You can choose between three different layouts for your posts: Left sidebar, right sidebar or centered without a sidebar.
Navigate to Appearance > Customizer > Paris Theme Options > Article Page and choose the layout you like.