This post contains affiliate links.
When I started my first fashion blog (which was already seven years ago, time flies!) I didn't have a clue what I was doing. Honestly – I just went to Blogger.com, typed in a (somewhat) creative name and hit the "Publish" button. Soon I realised that blogging isn't only about writing good content, but there is a whole lot more behind it.
In this comprehensive guide I want to share exactly these things with you. I want to answer the question: How can I start a successful fashion blog? How can I get found by interested readers, how can I present my content in a nice way and finally how can I step into the world of blogging professionally?
This blog post series will be mainly about the tech side of things, explained so everybody can understand it, not only tech nerds. When I started my fashion blog seven years ago, I wish I knew all these things!
I didn't, and so I made a lot of mistakes, and read a thousand tutorials, until I finally mastered the art of creating a successful WordPress blog. And I promise, that you can, too. So, let's start!
Overview: Start a successful Fashion Blog – The Tech Guide for Beginners
Part 1 (this post): The Blog Ecosystem – WordPress, Hosting and Domain
Part 4: A little SEO guide for WordPress Blogs
Part 5: How to set up Google Analytics on your WordPress Blog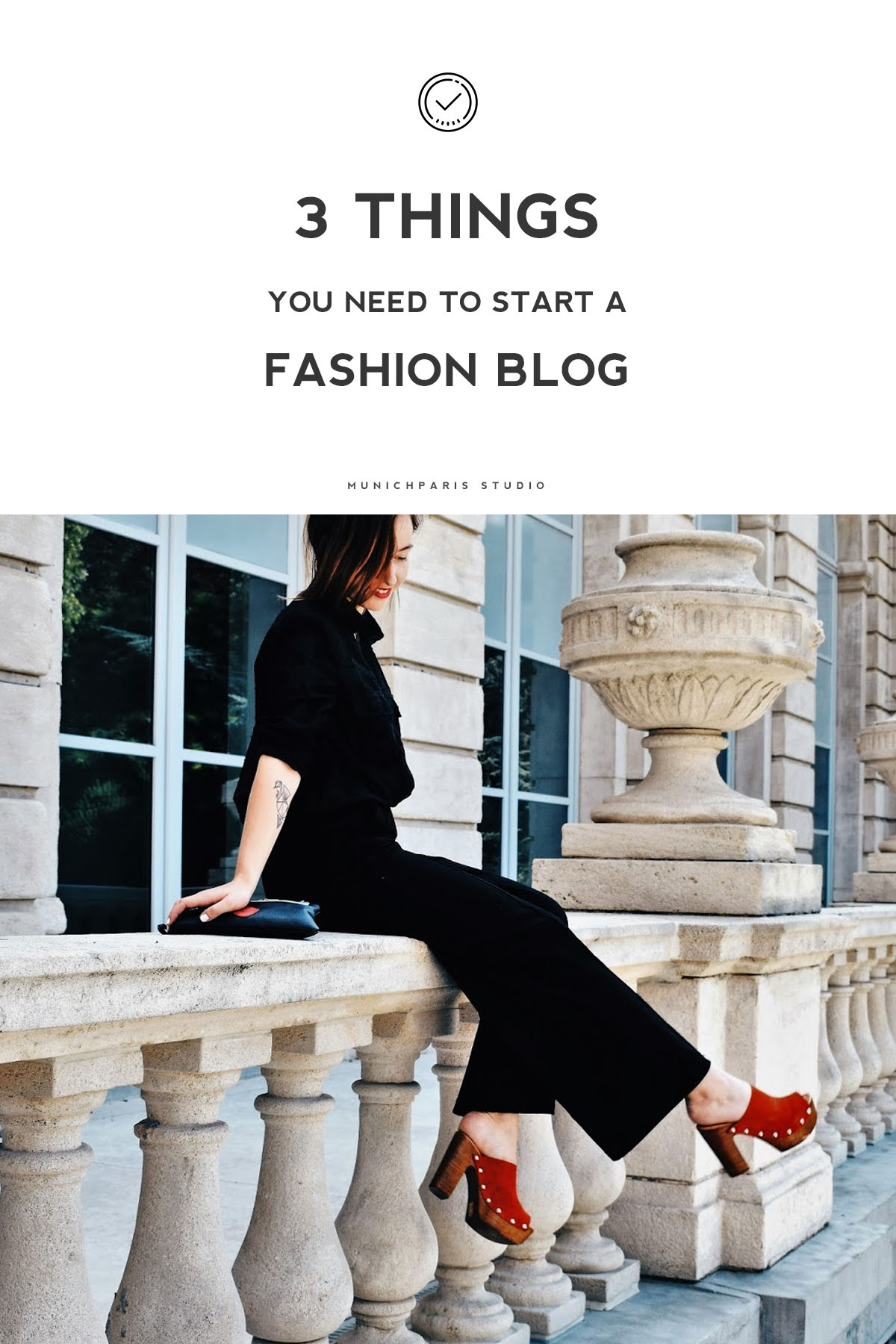 The first post in this series will be about finding the right ecosystem for your blog – and getting started with it. If you've already digged into the world of blogging you've probably heard that there are several platforms which you can use to write a blog. There is Blogger.com, which is a part of Google, Squarespace, and WordPress. Maybe you have heard about other systems as well, but these are the major ones.
Find the right Blog System – self hosted vs. not self hosted
Most of these (Blogger.com, Squarespace, WordPress.com) are not self hosted, which means that the company that runs the system will take care of everything for you. From hosting to domain (in some cases) to running backups and everything else. On the other hand, you will be extremely limited in terms of design and functionality (Blogger, WordPress.com) or you will have to pay a lot of money for it (Squarespace).
These systems are a good choice if you just want to try out, play around and see if you like blogging.
Now, if you want to get serious, there is just one option, which I want to talk about in this article: WordPress.org. This is the self-hosted version of WordPress, for which you will need your own hosting and domain. This means that you have to take care of the organisation on your own, but it also gives you complete freedom in what you want to do with your blog. You can choose between a wide variety of themes (designs) and plugins (functionality), nearly everything is possible.
This article is solely about WordPress.org, because that's the platform that most successful fashion bloggers use.
3 Things you need to start a Fashion Blog with WordPress.org
There are many articles out there that make it super complicated to get started with WordPress. I promise you won't need hundreds of plugins, a super professional plan or 100GB hosting space – at least not for now. Actually you just need three things:
Webhosting + a domain (which normally comes with your hosting plan)
WordPress software (which normally also comes with your hosting)
30 minutes of time
Wow, that's easy, isn't it? Maybe you don't exactly know what I'm talking about, but you will in a minute. Here are the steps you have to take to setup your own WordPress blog.
Get a webhosting plan and domain
For WordPress.org you need a little space somewhere on the internet to save all your posts, themes, and settings to. That's your webspace, which you'll get from a webhosting company. I always recommend bloggers who want to start to use Bluehost because they have a special WordPress plan which offers reliable performance, super duper support and is very affordable. The WordPress software will also be installed there automatically, so you don't have to mess with the installation.

A little excurse in hosting plans: Most important is that your plan offers unlimited traffic (for the tons of traffic you'll get once you're a successful blogger) and for a fashion blog with many images at least 10GB of webspace. If you can get a secure SSL encryption with it, it's even better (that encryptes all the information that is sent over your website, and makes it more secure to browse your blog – and people say it will soon become an important factor in Google's search ranking).
If you decide to go with Bluehost, the basic plan is totally enough for starting out. It offers a free domain, 50GB storage, as much traffic bandwidth as you need, SSL encryption and 24/7 support. The sign up process is as easy as ordering a cup of coffee in your favorite café. Follow the steps below or watch our helpful video.
Select the basic plan
Choose your domain name
If you already own a domain, from your Blogger blog or somewhere else, it's really easy to migrate it to Bluehost. Simply choose "I have a domain name" when you sign up.
Add your personal and payment information
You don't need to subscribe to the additional services like Site Backups and SiteLock Security – you can, if you want, but in the next parts of this guide I will present you some solutions for site security, SEO and backups, that are totally free and very easy to manage.
Choose the length of your subscription and there you go!
Install WordPress
Now you have your webhosting set up (that was easy, wasn't it?), and you can login to your account to install WordPress.
WordPress is the software that lets you write blog posts, view your statistics, choose between different themes, add widgets and more functionality. I'll come to all these things again in a later article of this series. For now, you just have to follow the link below to setup WordPress on your webspace. This tutorial is laid out for Bluehost, but the installation is similar for most hosts, so if you've already purchased webspace from another company, just check their FAQs or google for tutorials.
Step-by-step WordPress Tutorial for Bluehost
Login to yourdomain.com/wp-admin
Yeeesss, you got it! Navigate to the URL above (replace it with your new domain name and don't forget to add /wp-admin to the end of it) and login with your username and password.
Congratulations! You have just successfully set up your own WordPress blog! You can now play around a bit, maybe even write you first post, and get used to the feeling of having your own little piece of internet out there.
In the next part of my How to start a fashion blog series I will talk about how to make your blog look pretty with the right WordPress theme.